What is Share of the Profits?
Central Co-op is a Member-run organisation which means our Members unite to run our business and share in our successes and this includes financial rewards.
A benefit of being a co-operative business is that we share our profits with our Members. Membership costs £1. (some Members may be earning points to exchange for their £1 share). Once you hold a £1 share, all future points earned will go towards rewarding you with a share of our profits.
Earn points by scanning your Membership card each time you shop with us. You can also scan your digital card which can be stored on our Membership App.
Once you have earned enough points for a payout, we'll convert the points into ££'s. We sometimes refer to this reward as a Membership dividend or e-dividend. We'll load this onto your Membership card every time we announce our profits, in multiples of £1*. We reward for points earned between Jan & Aug, and Aug & Jan. Any points not converted* will be carried forward and because we are Member-led, all payments are subject to Member approval at our bi-annual Members' meetings.
How you can earn points in each Central Co-op area of business:
Food: 1 point for every £1 spent
Fuel: 1 point for every £10 spent
Funeral: 1 point for every £1
Florist: 1 point for every £1
Tenancy: 1 point for every £1
*Share of the Profits will be only paid when the society makes profit. Only amounts over and above your initial £1 share will be paid out as dividend in multiples of £1. Any residual points that are not converted will not be paid out immediately, but instead carried forward to the next qualifying period.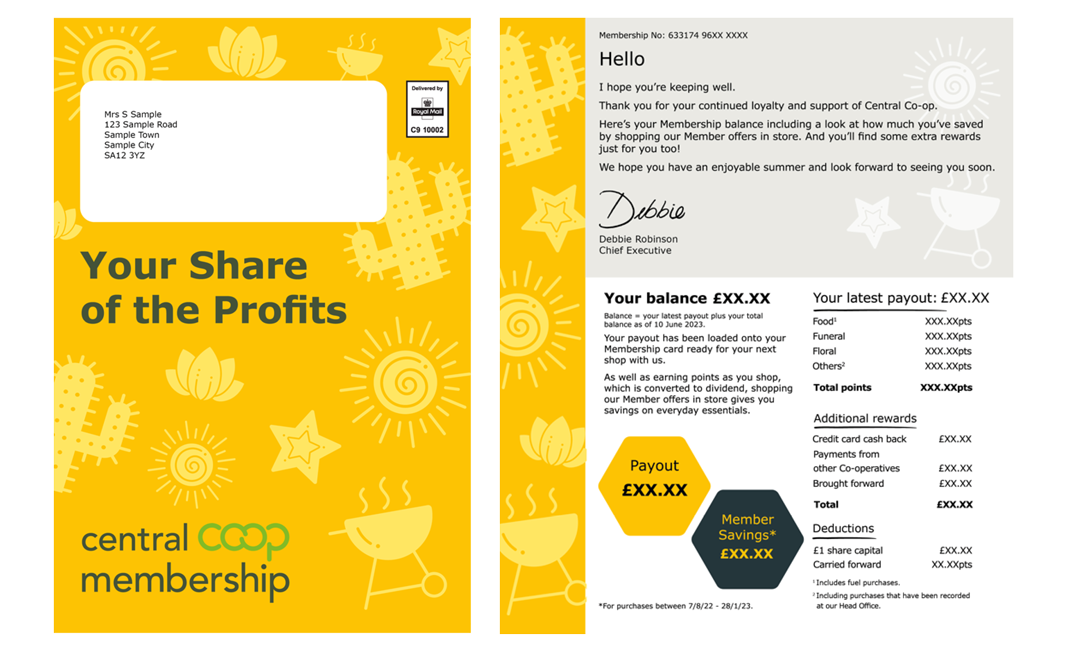 When will I receive my dividend?
If you've been a full Member for 6 months or more (see steps 1-3 above), you'll get your dividend in June and November every year.
When can I spend my dividend?
You'll be able to start spending your dividend in store as soon as you receive your notification email. Remember to bring your Membership card, as the payment will be loaded as a balance on your Member account.
Can I donate my dividend to charity?
Of course! We work in partnership with the amazing Dementia UK – You can do this by logging into your online account and completing the donate your points form. Or you can contact our Membership team on 0800 050 1601.